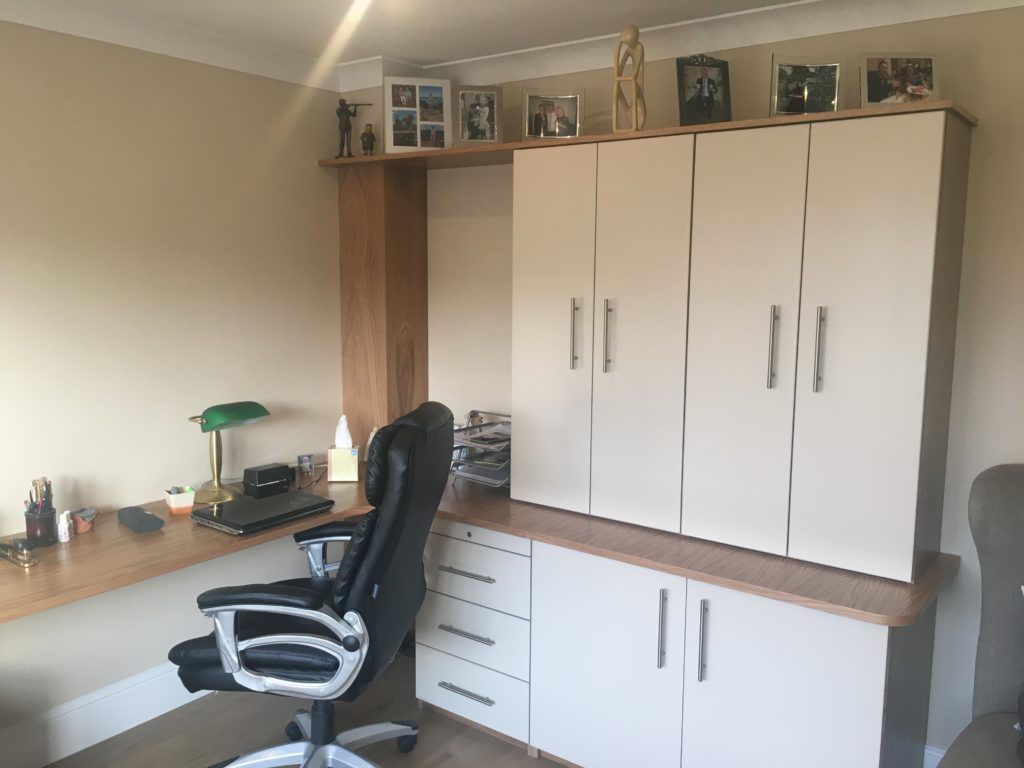 The Witley Direct team had previously worked with Graham and Helen to create an office at their previous home, so we were delighted to be contacted again to help them replicate this in their new home.
What drove the need for this project?
The couple wanted to replicate their office in terms of design and transfer it into their new home, with a few small changes to ensure it was in keeping with their new surroundings.
What did the project involve?
Planning
The initial stages of this project saw us visit the couple at their new home, to discuss their requirements and understand their vision for the space.
During this discussion, Graham made the following comment: "If we could pick up the old office and drop it in our new home then we would have done, such was our happiness with way the room worked, as well as the quality and service last time around".
They also discussed how the intricacies from the first office made the room so enjoyable, such as the seating position and shape of the desk, which allowed a nice flow to the working environment.
They wanted to incorporate cupboard dimensions to suit A4 lever arch folders,with enough filing space below the desktop height and specific dimensions internally to accommodate boxes and equipment.
The desktop also needed to be big enough to allow a spacious working area, as well as a monitor, keyboard and printer. Due to the space in the new home being bigger, it meant that in effect we could stretch the dimensions of the desktop, to provide this storage space and make the space even easier to work in.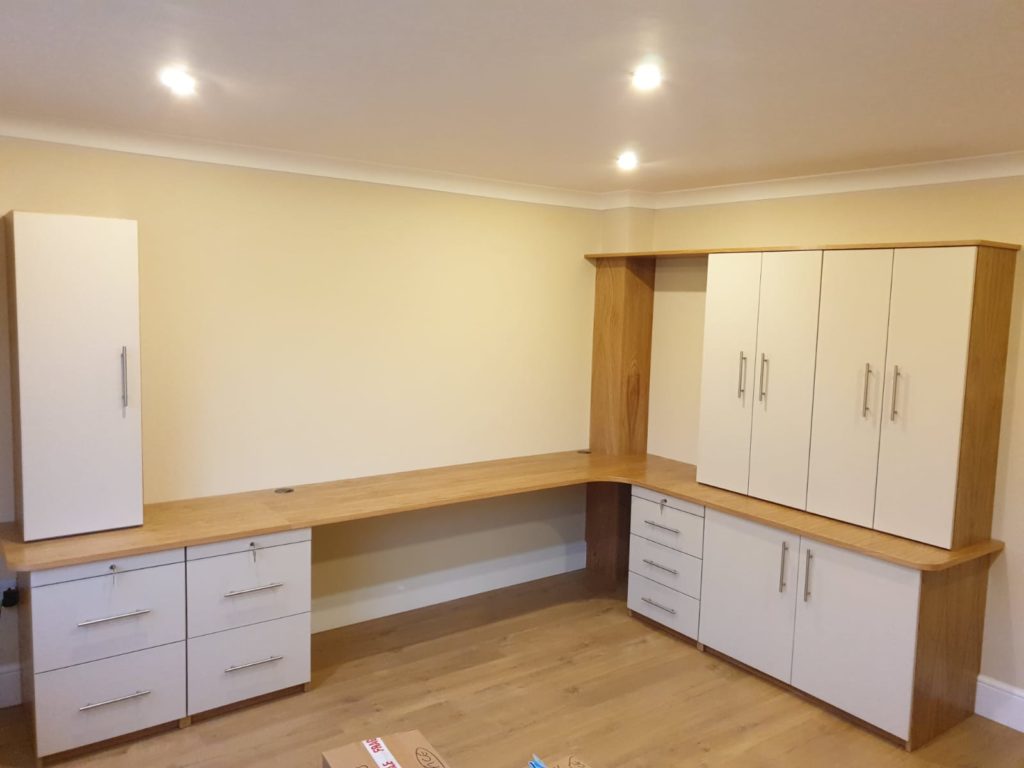 Based on their requirements and comments, we began planning the design for the new home office, incorporating all the things they loved about the previous office and tweaking it to best fit the new space.
Design
Following the planning stage, we produced 2D and 3D images of how the office may look and posted our hard samples for Graham and Helen to consider.
After our initial consultation it was suggested that an Oak Veneer with a lightly coloured plain colour – to closely match the doors and wall colours respectively – would create a nice two-tone effect and bring a traditional-looking wood grain into the modern house.
The couple then signed off the design and we began work on manufacturing the pieces for the home office.
Manufacture and Installation
We worked closely with the couple, keeping them informed throughout, and manufactured and fitted the office ahead of schedule to help ensure they were fully functioning well in advance of Christmas, to the client's delight.
Client Feedback 
"We used Witley Direct some years ago to install an office at our previous home. After inviting them into our home and discussing some of the things that we would like incorporated into the layout we received a drawing and price for completing the work. We placed our order and could not complement them enough on the quality and their professionalism.
Six years later we moved house again and didn't have to think twice about who we would use to install a new office in our latest property.
We phoned Dave Manser again and asked him to visit us and, as we were so pleased with the first design, asked if it could be repeated at this new address but in a different wood grain. Samples were provided and we chose our preferred timber and colour.
 This instalment has now been completed and again we love the finish and new look.
Thank you Dave and your team, you continue to impress us with your dedication and commitment to the customer."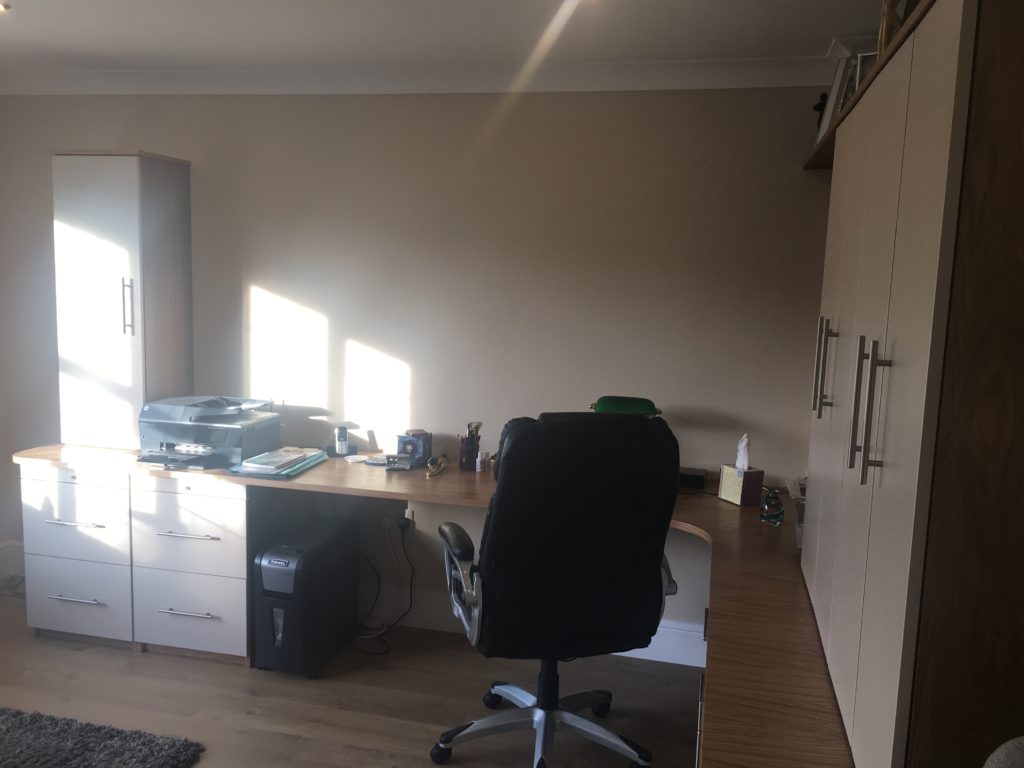 We were delighted to work with Graham and Helen again, to create another home office that perfectly meets their needs and really works for them and their new home, both in a practical sense and an aesthetic sense.